comfortable shoes
PrecisionFit:
The secret to stylish, comfortable shoes
"After studying Footwear Production, I discovered the real reason why most fashion shoes & heels leave your feet feeling uncomfortable & sore. It's not because they're a fashion style, it's simply because they don't fit properly. A great fit is the secret to comfortable shoes."

– Iris Anson, Founding Director
If you're fed up with fashion shoes that look great, but feel painful, or you're tired of trying to fit into standard sized shoes- our PrecisionFit service is for you. When you choose PrecisionFit sizing, you get the shoe style that you love, made to fit your exact measurements. The end result? Beautiful, handcrafted shoes that are so comfortable, you won't want to take them off.
How does the PrecisionFit service work?
Making the transition from standard to PrecisionFit sizing is easy.

After you've designed your shoes or selected a pair from our pre-designed collection, we'll send you your very own Fitting Kit. With this & our easy-to-follow video, you'll create a cast of your feet in just 8 minutes. Once you've returned your cast (via pre-paid post), our expert craftsmen will make a pair of personalised wooden lasts (wooden mould which is used to make shoes) from your measurements. They'll then begin handcrafting your dream shoes. For more information on our PrecisionFit service and how it all works, visit our PrecisionFit FAQs.
If you're in or near London, you can also have your feet measured with our 3D Foot Scanner. Make an appointment and visit our East London studio or come see us at one of our upcoming pop-up events.

A scan from our 3D Foot Scanner
Plus, if you need any design advice, book a free style consultation via Skype, let us know when you're available. We'll happily chat about design and styling options, plus any other questions you may have.
Your most comfortable shoes ever – we guarantee it
As with any bespoke product, when you first receive your PrecisionFit shoes, they may require an additional adjustment. If you're not 100% happy with the fit or look of your shoes, we'll work with you until they're perfect for you; that's our satisfaction guarantee. Visit our customer service hub to find out more about our satisfaction guarantee, adjustments, comfort adding features & more.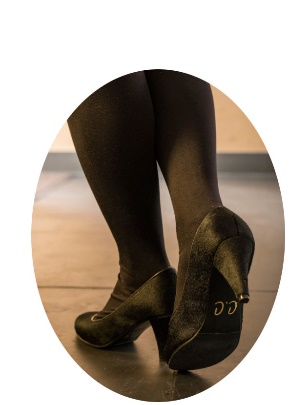 "I made it home late that evening, having walked across London without pain. If this is the future of heels? Sign me up."

- Cristina Criddle, The Telegraph
Image credit:
ANDREW CROWLEY FOR THE TELEGRAPH


Please note: We do not offer footwear for orthopaedic patients. If you are unsure whether or not we can create shoes for your requirements, please contact us.